Belleville Washers
For Flange Applications
READY TO GET YOUR CUSTOM QUOTE?
Complete the form below or call 877-235-5384 to get started today.
FLANGE WASHER SOLUTIONS
For High Temperature & Cryogenic Bolting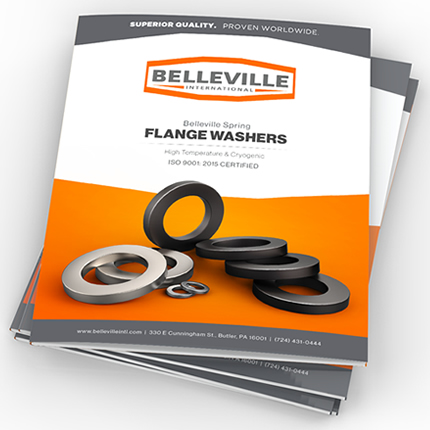 The addition of Belleville International's Belleville Spring Flange Washers to a flange joint for live loading is a great solution to keep fugitive emissions below mandated levels. The role of the washer is to increase the elasticity of the joint, therefore reducing the amount of relaxation.
EPA statistics show that 31% of uncontrolled VOC emissions from a petrochemical facility originate from flange connections. It is also estimated that 50%-80% of all flange leaks are from bolt preload loss.
We offer stock materials: H13, Inconel 718 and 17-7 Stainless, as well as custom materials and bolt stresses for everything from Heat Exchangers, High Temperature and Cryogenic Flange Bolting applications.
For our full catalog and detailed application information, please download our Flange Washer Handbook.
DOWNLOAD OUR HANDBOOK
GET THE RIGHT FLANGE WASHER FOR YOUR PROJECT
Our expert team will provide engineering support, insights and guidance to ensure a solution for your flange application.
ENGINEERING SUPPORT
Full support to help determine size, load and material requirements for your flange bolting application.
LARGE STOCK INVENTORY
Belleville Flange Washers stocked in common bolt sizes and stresses including 30, 45, and 60KSI.
SAME DAY SHIPPING
Same day shipping and expedited production to cover all of your shutdown and turnaround needs.
INDUSTRIES WE SERVE
We meet the critical needs of our customers worldwide. Our team provides custom disc springs and products with full traceability, expedited production and excellent service. We can help find a solution for your application in any industry.
WHAT OUR CUSTOMERS HAVE TO SAY
See what our customers have to say about our outstanding service.
"Working with Belleville is always a pleasure. The customer service is top notch! I am spoiled to quick responses and order acknowledgements."
Valve Industry Buyer
"Belleville's customer service is outstanding. Always keeping my company informed if any changes are made or need to orders. Responds quickly to their customers and is very professional."
Drilling Industry Buyer
"It is always a pleasure to work with the Belleville International staff. Great customer service and great product."
Buyer for Global Distributor
Previous
Next