Downhole Drilling Springs
AND COMPONENTS
READY TO GET YOUR CUSTOM QUOTE?
Complete the form below or call 877-235-5384 to get started today.
BELLEVILLE SPRINGS
Mud Motors | Shock Tools | Accelerators | Drilling & Completions Jars | Hammer Drills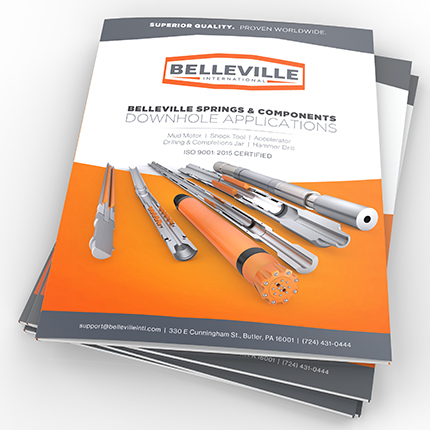 Belleville disc springs are used throughout the drill string, completion tools and support equipment. They are ideal for almost all downhole applications because they can produce a very high load in a small space and are highly customizable. Our team at Belleville International designs each spring or spring stack to maximize spring life and performance while reducing downtime and intervention.
Common materials for downhole applications include 6150 Alloy and Inconel 718. If you are already using belleville springs or want to add springs to your design, contact our engineering team for a tailored solution at a standard cost. For more detail on belleville spring use and design, please click below to download our Downhole Application brochure.
DOWNLOAD OUR HANDBOOK
Bellevilles and Machined Components
Our team is here to help with your project. Contact us today for complementary design help to ensure the best spring design for your application.
Complementary
Design
Our goal is to provide the best spring for your application. Contact us today for design assistance!
Quick
Turnarounds
Our team motto is to 'make it happen'. Short lead times, expedited options, and on-time delivery are our specialty.
Superior
Quality
Our springs are manufactured in our plant with full traceability in Butler, Pennsylvania.
INDUSTRIES WE SERVE
We meet the critical needs of our customers worldwide. Our team provides custom disc springs and products with full traceability, expedited production and excellent service. We can help find a solution for your application in any industry.
WHAT OUR CUSTOMERS HAVE TO SAY
See what our customers have to say about our outstanding service.
"Working with Belleville is always a pleasure. The customer service is top notch! I am spoiled to quick responses and order acknowledgements."
Valve Industry Buyer
"Belleville's customer service is outstanding. Always keeping my company informed if any changes are made or need to orders. Responds quickly to their customers and is very professional."
Drilling Industry Buyer
"It is always a pleasure to work with the Belleville International staff. Great customer service and great product."
Buyer for Global Distributor
Previous
Next