Belleville Springs
and Valve Components
READY TO GET YOUR CUSTOM QUOTE?
Complete the form below or call 877-235-5384 to get started today.
Precision Valve Components
Ball Seats | Seat Locking Rings | Body Gaskets | Spacers | Live Loading | Disc Springs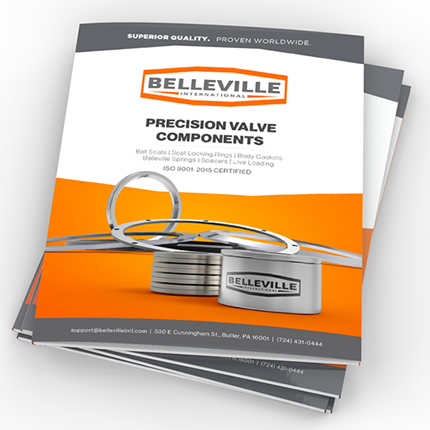 Our team specializes in machining custom belleville springs in addition to a variety of parts for the valve industry out of a large selection of materials including, but not limited to: Inconel 718, Inconel X750, Hastelloy, Waspaloy, Titanium, A286, 17-4 PH & 17-7 PH Stainless Steel, and more!
These components include:
Metal body gaskets
Shims
Seat locking rings
Ball seats
Custom rings and spacers
Disc springs
Contact our team today for a quote!
DOWNLOAD OUR HANDBOOK
Custom Bellevilles and Machined Components
Our superior quality valve components and custom Belleville disc springs are used extensively in the metal seated and severe service ball valve markets. We also have a range of live loading options to reduce fugitive emissions below mandated levels.
Custom Belleville Disc Springs
Made from exotic materials - sizes in excess of 42".
Precision Valve Components
Metal body gaskets, shims, seat locking rings, ball seats & custom rings and spacers.
Valve Live
Loading
Reduce leaks and fugitive emissions with belleville springs.
INDUSTRIES WE SERVE
We meet the critical needs of our customers worldwide. Our team provides custom disc springs and products with full traceability, expedited production and excellent service. We can help find a solution for your application in any industry.
WHAT OUR CUSTOMERS HAVE TO SAY
See what our customers have to say about our outstanding service.
"Working with Belleville is always a pleasure. The customer service is top notch! I am spoiled to quick responses and order acknowledgements."
Valve Industry Buyer
"Belleville's customer service is outstanding. Always keeping my company informed if any changes are made or need to orders. Responds quickly to their customers and is very professional."
Drilling Industry Buyer
"It is always a pleasure to work with the Belleville International staff. Great customer service and great product."
Buyer for Global Distributor
Previous
Next