Belleville Disc Springs
FOR ALL APPLICATIONS
READY TO GET YOUR CUSTOM QUOTE?
Complete the form below or call 877-235-5384 to get started today.
Custom and Standard Belleville Springs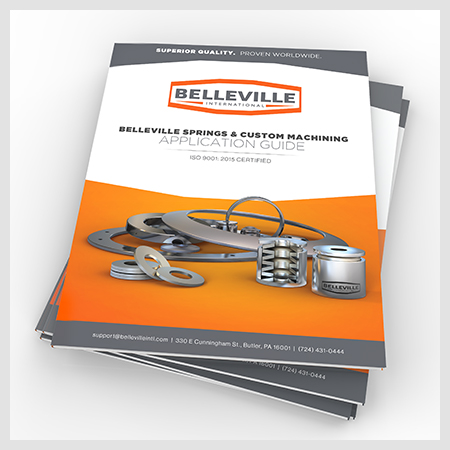 Our team will ensure you get the spring you need, on time, every time with all necessary quality documentation. We offer a full range of Belleville disc springs, whether you need a custom design or a standard size including, bolting washers, DIN 2092, DIN 2093, DIN 6796, and EN 16983 certified Bellevilles.
We supply bellevilles to aerospace, clutch, steel mill and heavy equipment manufacturers for both static and dynamic applications.
Belleville springs are used to engage motion and force in various designs of clutches and brakes. Large stacks of heavy Bellevilles are designed into the latching devices on coke oven doors to ensure efficiency and help prevent loss of oven temperature. Belleville stacks are also employed in the tracks of rolling mills to help keep them balanced and produce consistent thicknesses of rolled steel.
Belleville spring force is used to maintain bolt pre-loaded in high vibration and thermal expansion and contraction in bolted connections. They are commonly used in heavy equipment to compensate for vibration and by power producing and transmission companies to keep a variety of bolted connections tight and secure. The most common of these involve transformers and bus bars.
DOWNLOAD OUR HANDBOOK
High Quality, Well Designed Springs
Our goal is to provide the best spring for your application. To make this happen, our team can provide engineering design help to maximize spring life and achieve the best performance at a competitive price.
CUSTOM
We offer complementary design or can manufacture to your print.
STANDARD INCH SERIES
We stock standard sizes for all of your bolting needs.
DIN 2093
We offer a full line of DIN 2093 metric springs for dynamic applications.
INDUSTRIES WE SERVE
We meet the critical needs of our customers worldwide. Our team provides custom disc springs and products with full traceability, expedited production and excellent service. We can help find a solution for your application in any industry.
WHAT OUR CUSTOMERS HAVE TO SAY
See what our customers have to say about our outstanding service.
"Working with Belleville is always a pleasure. The customer service is top notch! I am spoiled to quick responses and order acknowledgements."
Valve Industry Buyer
"Belleville's customer service is outstanding. Always keeping my company informed if any changes are made or need to orders. Responds quickly to their customers and is very professional."
Drilling Industry Buyer
"It is always a pleasure to work with the Belleville International staff. Great customer service and great product."
Buyer for Global Distributor
Previous
Next